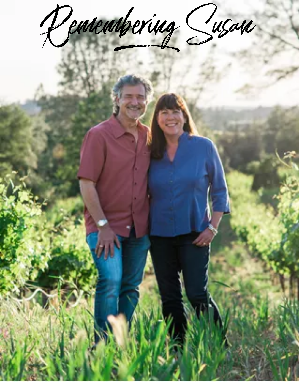 My wife Susan was the kind of person you build a team around, and I was blessed to have her on 'my team' for 38 years. We founded and operated Cedarville Vineyard and Winery, and our skillsets complimented each other perfectly in business – and in life.
In March 2019, Susan went to her doctor with abdominal pain. Maybe she had pulled a stomach muscle while running, she thought.
That was not the case.
Her paternal grandmother had died of pancreatic cancer at an older age. Susan was only 58 when she was diagnosed with the disease – even today, it has a five-year survival rate of only 10%.
On June 2, 2020, just as the grapes were beginning to flower, Susan passed away.
On May 1st, in celebration of Susan, we are offering the second release of a new wine for us, a Rosé, the 2022 Cedarville Vineyard "Susan Marie Rosé". It is available to our mailing list and through the link below.
https://cedarvillevineyard.com/purchase.html
The label on the bottle states: In honor of our founder, Susan Marie Marks, our debut Rosé is crafted in the traditional style – crisp, refreshing and decidedly Cedarville. Beautiful and authentic, just like Susan, who loved life and loved her Rosé.
I'm donating to PanCAN, in tribute to Susan, from the sales of the Susan Marie Rosé.
If Rosé isn't your thing, or you'd prefer to donate directly to PanCAN and support their efforts to change the survival rate for pancreatic cancer and improve patients' lives, please do so here on this page.
I think Susan would agree that giving to PanCAN is the right thing to do. She would be happy they are working to make sure no one else has to go through the experience we did or be taken away from this beautiful world in an untimely way.
View More
Printable donation form - print and mail.