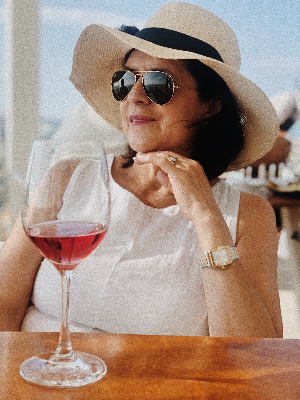 In honor of our beloved Ruth, we are supporting PanCAN's vision to create a world in which all patients with pancreatic cancer will thrive.
Dr. Ruth Esmeralda Pilco Jaber passed away peacefully in her home at the age of 66 on October 12, 2022 surrounded by her loving family. Ruth was born on June 9, 1956, in Loja, Ecuador. As the fourth child of 12 brothers and sisters, she grew up in a lively household filled with love. From a young age, Ruth was known for her kind heart, effortless poise, and determination. She was among the first four women in her medical school class at La Escuela de Medicina de la Universidad de Cuenca, Ecuador. Following graduation, she moved to New York City to complete residency in Internal Medicine and fellowship in Nephrology at Lincoln Medical Center, New York Medical College. It was in the hospital hallways where she met fellow resident turned devoted husband of 30 years, Dr. Mouin Jaber.
In 1994, the pair moved to Boise City, Oklahoma, where they began their independent medical careers. After moving to Amarillo, Texas, in 1997, they opened Soncy Medical Clinic, where Ruth continued to operate her private general medicine practice. She devoted herself to serving the Texas Panhandle community for more than 25 years. She was deeply passionate about providing exceptional medical care to her patients, many of whom she had known for more than 20 years. Each patient she cared for was a gift and fulfilled her own life in immeasurable ways. She will always be remembered by her colleagues, nurses, and patients for her warmth, compassion, and unyielding optimism.
Above all, Ruth had an incredible vitality for life. She desired to see the world and immerse herself in different cultures and traditions, nearly completing her list of "100 Places" to see during her lifetime. It brought her immense joy to share photos and stories of her travels with friends and family. Her energy was unmatched when it came to supporting her kids -- from planning surprise birthday parties to attending tennis matches and college homecoming weekends, she never missed a beat. She had a knack for baking, a lovable sweet tooth, and was a social media queen. She had a special gift of giving and showing love to those she cared for and was profoundly loved in return.
Despite her pancreatic cancer diagnosis, she continued to take advantage of everything that life offered. She fought with tremendous grace and resilience. The family would like to thank her outstanding physicians, nurses, and care team, who worked tirelessly for Ruth. Notably, Dr. Shane Holloway, Dr. Anita Ravipati, Dr. Robert Wolff, Dr. Herbert Zeh, Dr. Chance Irwin, Dr. Thayer Ismaael, Dr. Randy Stewart, Dr. John Andrew, and Miriam Perez.
All donations funds life-changing programs and services for patients and their families. Because of you, patients and families receive essential services, resources, information, and support when they are urgently seeking help and hope.
Her family is profoundly grateful for your generous donation.
View More
Printable donation form - print and mail.