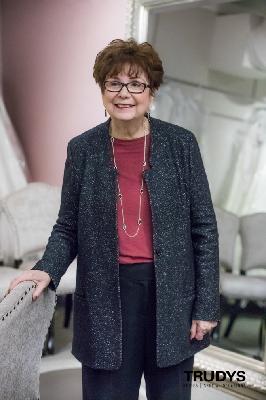 My parents Roger and Trudy Blechman, opened their small business "Trudys" in 1974 in The Pruneyard Shopping center in Campbell California. Over the years that small business has grown and expanded to become one of the largest bridal and special occasions dress salons in Northern California. One of my mom's favorite aspects of the business was getting to know all of her brides and hearing about their love stories. She used to call them the story behind the dress. She loved hearing how our brides met and fell in love with their fiances. She also loved finding gorgeous dresses that her customers felt truly beautiful in. Sadly, in 2018 we lost mom to Pancreatic Cancer, a tragic loss to the family and the dress industry. I wish I had known about the Pancreatic Cancer Action Network at the time for all of their help and resources.
Today as we enter into our 50th year in business, with the same goal as Trudy, helping our customers look and feell absolutly beautiful in a Trudys dress, for their special celebration. We will honor my mom Trudy, with a donation to Pancreatic support and reaserch along with our favorite bridal designer MoriLee by Madeline Gardner. Starting November 10th through November 27th Trudys will be featuring the New MoriLee spring 2024 collection, first look in California. For every bride who orders a MoriLee Bridal gown during this event, our bride will recieve $200.00 off her purchase, and Trudys and MoriLee together will donate $200.00 to Pancreatic Cancer Action Network. Please call or go online to make an appointment for this very special November event at Trudys
Steven Blechman
Trudys Brides and Special Occasions
TRUDYS
#TrudysBrides #TrudysProm
In honor of my loved one, I'm supporting PanCAN's vision to create a world in which all patients with pancreatic cancer will thrive.
Every dollar you give funds life-changing programs and services for patients and their families. Because of you, patients and families receive essential services, resources, information, and support when they are urgently seeking help and hope. They need you now more than ever.
Patients and families need us now more than ever.
I am profoundly grateful for your generous donation.
View More
Printable donation form - print and mail.