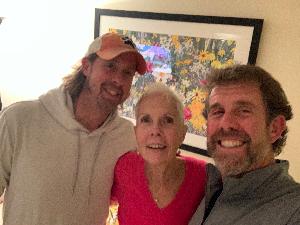 October 2022 Update: This year we marked the 1 year anniversary of my Mom's passing, and I paid tribute to her by participating in an "Everesting" style endurance event on Stratton Mountain in Vermont. It was 17 hikes up the mountain, each a reminder for me, of the individual chemo sessions she endured, but each time I turned around and looked over the valley she loved and called a home for more than three decades I was reminded of her strentgh and appreciation for wonder of nature. Help me close out this challenge.
An Update: On October 8th, 2021 my Mom died of complications related to her pancreatic cancer diagnosis. Why am I phrasing it that way? The short answer is that in the early part of the summer my Mom decided to stop treatment and live her remaining days on her own terms. The result is that with the suspension of treatment, came the ending of any testing of any kind at all. In some ways she stopped being a "patient" and returned to being a "person." So when the end came, at home with my Dad, it was peaceful and unexpected. She didn't suffer and she did it without an inordinate amount of focus on herself. If you'd like to see her again I'd invite you to vist her in your memories and if you've never met her, she can be found in anything that you find remarkable or beautiful in nature.
____________________
I'm celebrating my 50th birthday in 2021.
It's a milestone birthday that prompts some to train to run a marathon or climb a mountain.
This year as I reflect on where I am in my life, the person who gave me life, my incredible mother Mims, is in the middle of an unexpected diagnosis of pancreatic cancer. Thankfully, I'll still be able to hear her voice this year when she wishes me a happy birthday. Not everyone is as fortunate.
So, I've set an ambitious goal of raising $50,000 in support of the Pancreatic Cancer Action Network by participating in Wage Hope My Way to help accelerate progress and improve patient outcomes, so that more people who love, and are loved by, people with pancreatic cancer celebrate birthdays with the people most important to them.
I know I can count on you to help in that effort.
It's possible one of you in my community, my peer group, someone among my friends, co-workers, acquaintances, or a stranger is inclined to donate $50,000 - which would be awesome.
It's far more likely that I'll need more like 1,000 people to donate $50.
If it means I need to make a connection with 50,000 people donating a dollar, then I'll do that too.
I appreciate your support.
Jamie
View More
Printable donation form - print and mail.