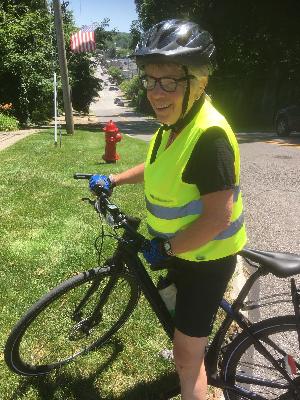 My mother died of pancreatic cancer in 1983. Thirty-five years later the survival rate after five years for this terrible disease is still only 8%. I have been wanting to do something to honor my mother's memory for a long time. This year, at the age of 68, I decided to attempt my first century bicycle ride as a fundraiser to help combat pancreatic cancer. I've been training since the snow stopped in April and plan to cycle 100 miles on Saturday, September 29th.
Your donation will go to the Pancreatic Cancer Action Network (PanCAN), dedicated to fighting the world's toughest cancer. In its urgent mission to save lives, this organization attacks pancreatic cancer on all fronts: research, clinical initiatives, patient services and advocacy.
My mother, a Holocaust survivor, faced this disease with courage and incredible strength. Each time I get on my bike, I try to channel her determination. She continues to inspire me every day and I am grateful for the opportunity to pay tribute to her through this fundraising effort.
Pancreatic cancer has claimed so many lives and broken the hearts of countless loved ones. Though I don't like asking friends for money, I ask that you consider donating to remember those affected, as well as to wage hope for a cure. Your support will be a personal source of motivation as i pedal through the Pioneer Valley, and make my way into Vermont and New Hampshire. I also invite you to pedal alongside me for any amount of the ride, or join me at a rest stop, or at my end point in Hatfield. More details about the ride itself will be coming.
You can donate by clicking the "Donate" link on this page.
Thank you for your love and support. I look forward to celebrating with you, as I complete my 100th mile on September 29th. More importantly, I look forward to a brighter future for pancreatic cancer patients and their loved ones.
Sincerely,
Sara
View More
Printable donation form - print and mail.