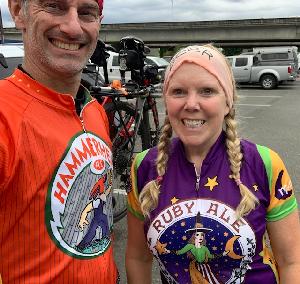 Merrick and I are biking 1100 miles on the Quest to become McMenamin Tripsters. We are biking to bring awareness to Pancreatic Cancer and remembering our Port of Seattle Firefighter brother, Gil Smith. We are biking to raise funds to help accelerate progress and improve patient outcome to help support our Port of Seattle Firefighter brother, Alvin Vaughn.
We will begin our journey on September 6th for a 25 day-1100 mile bike journey that will take us from Mill Creek, WA to Roseburg, OR. We will pedal along the Oregon Coast and climb up to Bend and Government Camp before heading back down for our last few days in Portland.
None of us has been able to come out of this past 18 months without being affected by the loss of a loved one or living with someone that is struggling with health issues.
We bike to raise funds and awareness and we bike, Because Some Can't.
Please help us meet our goal because we are Waging Hope Our Way!
View More
Printable donation form - print and mail.