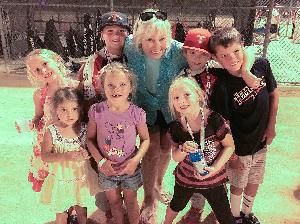 Our beloved Mom, P.S., Nonnie, Penny-Sue was taken from us at the age of 65 by pancreatic cancer. The mass in her pancreas was first discovered in April 2016. She chose UCSD to handle her case and endured many rounds of chemotherapy, a failed Whipple surgery procedure and a clinical trial, but ultimately lost the battle on October 20, 2017. Being alongside her in this painful journey, we came to realize that the advancements in treating specifically pancreatic cancer patients have been somewhat minimal over time, especially if it is not caught extremely early.

By making a donation to this page, you are helping to advance research, support patients and create hope for those fighting pancreatic cancer in Penny-Sue's name. If anything positive can come out of this, it is that our efforts could help others that are afflicted by this awful disease.

Please make a donation to Penny's page and maybe we can do our part for her to help find a cure.
View More
Printable donation form - print and mail.