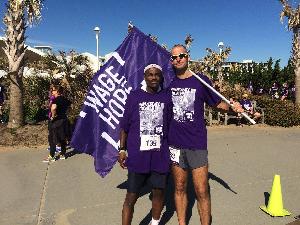 In 2007, my Grandmother was diagnosed with Pancreatic Cancer and hospitalized at Walter Reed Medical Center. At the time I was 29 and was fortunate to had never encountered someone close to me dealing with any kind of life-threatening disease. The severity of the Cancer came to light when surgeons attempted the Whipple procedure. Unfortunately the Cancer had spread too far into neighboring organs and lymph nodes (stage IV) and it was determined the procedure would not be successful. They gave her a prognosis of 6-12 months. They attempted two rounds of Chemotherapy but after we had a grasp on how the treatment took such a toll on her health the decision was made to manage the pain and let her live her final months in relative peace. Her decline was fast, as in September that year we lost her.
Through the years I've witnessed friends' and friends' loved ones battle with Pancreatic Cancer. Unfortunately, in all instances the diagnosis was too late, and the decline quick. There is nothing that pains me more than having to see someone go through this. And it's in this light that I firmly support all research for early detection and treatment of Pancreatic Cancer as I know it has the highest mortality rate of any Cancer. I want the conversation to be that a life was saved – the Cancer was detected early enough or the treatment was more effective so that nobody has to go through what we went through with my Grandmother.
On my journey to the World Marathon Challenge in 2018, in honor of my Grandmother and all those that have had Pancreatic Cancer touch their lives, I have set a goal to raise a minimum of $10,000 of which 100% will be donated directly to PanCAN. Together we can WAGE HOPE.
Thank you for your support!
View More
Printable donation form - print and mail.