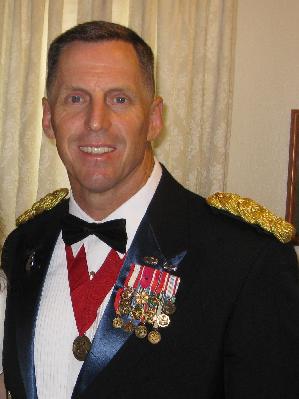 LTG Thomas S. Vandal (US Army, Retired) passed away Sunday, 7 October 2018 after a courageous battle with pancreatic cancer, at home, surrounded by his family. He was the son of the late Maurice Vandal and Barbara Vandal.

A native of Rhode Island, Tom graduated from the United States Military Academy in 1982, and was commissioned a 2LT in the Field Artillery. He retired on 1 September 2018, after a 36 year distinguished career, where he served at every level of command, from Battery to Field Army. Tom last served as the Commander of Eighth United States Army, Republic of Korea, during an extremely volatile and transformational time on the peninsula.

Tom was a humble, selfless leader of character and a role model for what "right looks like," always leading from the front and never asking more of his soldiers than he would ask of himself. Troop readiness, mentoring soldiers, and caring for family were his top priorities. Tom was a kind, generous husband, father, grandfather, brother and friend. He always put other's needs before his own, and will be remembered for his love of God, family and country. Tom was the epitome of an American Soldier!
Tom is survived by his loving wife of 35 years, Doreen (Hulton) Vandal and three sons proudly serving in the military: Capt Nicholas Vandal (USMC), CPT Eric Vandal (USA), and LT Stephen Vandal (USN), daughter-in-law, Janelle, two grandchildren, Emma and Thomas, in-laws, Chester and Lorraine Hulton, sister Colleen Vandal, brother John Vandal and several nieces and nephews.
https://www.facebook.com/Eighth.Army.Korea/videos/1923102791036718/
In lieu of flowers, please consider donating to the Pancreatic Cancer Action Network in his memory.
View More
Printable donation form - print and mail.