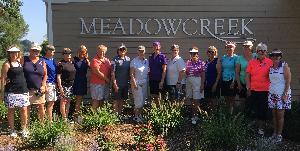 Meadowcreek's Thursday Ladies' Golf League members sprang into action to sponsor a charity golf tournament when they learned that one of their "sisters" had been diagnosed with pancreatic cancer.
She has received extraordinary support, hope, advocacy, and information from the Pancreatic Cancer Action Network (PanCAN); therefore, she selected PanCAN to be the beneficiary of the fundraiser.
Putt Out Pancreatic Cancer golf fundraiser will be held at Meadowcreek Golf Course in Charlottesville, VA, on September 28, 2019. The goal is to raise $10,000.00 in support of the Pancreatic Cancer Action Network (PanCAN) by participating in their Wage Hope My Way.
All donations are greatly appreciated, and 100% of the proceeds will go to pancreatic cancer research, support care, and hope that by 2020 there will be a doubling of the survival rate for those diagnosed.
View More
Printable donation form - print and mail.